10 of the Best Options of 2021
6 min read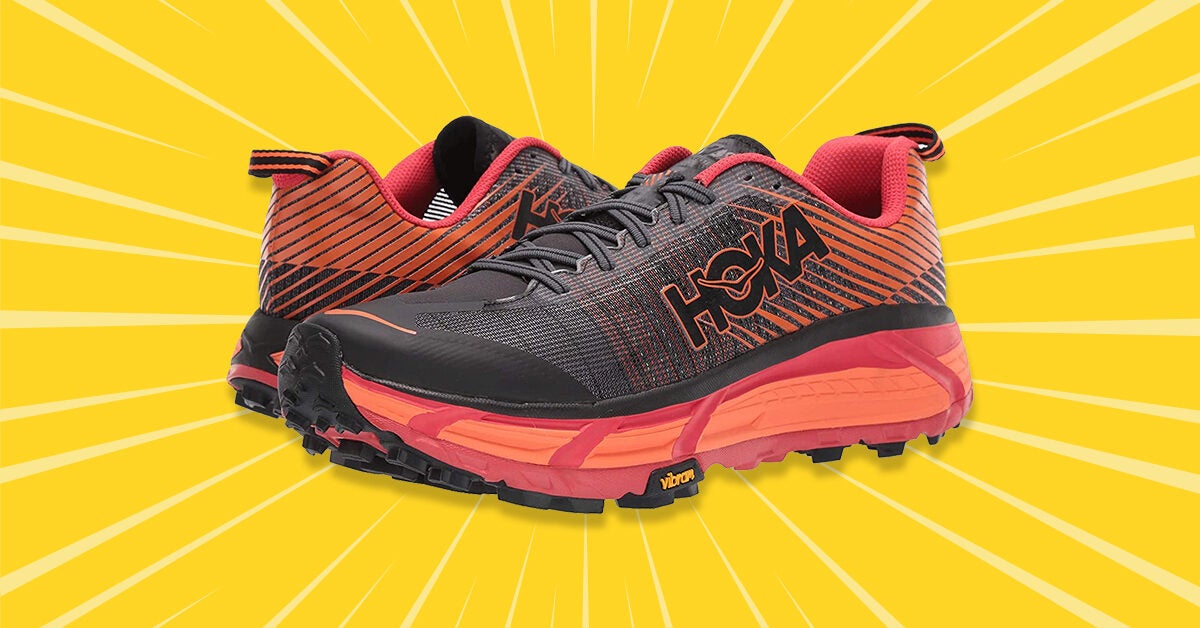 Trail running shoes were designed with diverse terrains in mind. The tricky thing is, there are, like, a ka-billion to choose from. But don't worry fam, we have your tootsies covered.
Here are the 10 best trail running shoes of 2021.
Here's how we determined which 10 trail running sneakers passed the vibe check.
Comfort. Comfort really is king 👑 (at least when it comes to running shoes). We only picked pairs that have ergonomic designs and/or added layers of cushioning.
Price. Trail running shoes can get super spendy. We selected shoes for every type of budget.
Stability. These shoes have the extra support and stabilizing you need for uneven, rocky, wet, or muddy terrains.
Reviews. All of our shoe picks have rad user reviews. But don't worry, we didn't ignore any cons that came up in our research.
Style. OK, so style isn't the most important criteria for running shoes. But hey, there's nothing wrong with looking good 😎.
Here's a closer look at our top 10 trail running shoes for all of your style, budget, and comfort needs.
Price: $$$
Colors: a blend of orange, red, and black; or teal, yellow, and grey
Size range: men's 7.5–14
Ever wonder what it would be like to run on a cloud? Well, these sweet sneaks might be as close as you can get. The rubber foam outsoles and midsoles are compression resistant and the sculpted arch pods offer optimal support. Folks also dig the 5mm lugs which are terrific for traction.
Price: $$
Colors: a blend of deep cobalt, blue, and red; blue fog, poseidon, and grey; black, grey, and burnt ochre; or black, blue, and nightlife
Size range: men's 7–15
With these snazzy sneakers you get the 🎶 best of both worlds 🎶. They're fab for road runners and off-trail fans alike. The rubber outsoles provide great uphill and downhill traction on all types of terrain. Folks also love the fun color options!
Cons: A few reviewers mention the shoes run a bit small. So you may want to try them on in person before ordering online.
Price: $$
Colors: a blend of black, goji berry, and phantom; copen blue, black, and evening primrose; black, quiet shade, and ebony; pearl blue, ebony, and red orange; or trooper, lunar rock, and ebony
Size range: men's 7–14
These sneaks are sleek AF. The SensiFit™ lacing system gives them a custom feel. But the top feature is def the all-terrain grip. The full rubber outsole and profeel rim will protect your feet from sharp or slick surfaces. Folks also love that they're hella shock absorbent and lightweight.
Price: $$
Colors: a blend of blue and lime, blue and yellow, green and lime, yellow and port, or black
Size range: men's 7–15
Reviewers rave about the comfort and stability of these shoes. They have a rockin' 6 mm footbed that contours to the foot and a removable stone guard. They also have a responsive Quantic midsole and sturdy construction. Folks also comment on the way these shoes let their feet breathe.
But wait, there's more! These shoes also provide a dope amount of drainage for rainy runs.
Price: $$
Colors: a blend of black and Baltic jewel
Size range: women's 5–13
Ready to go the distance? This pair is a standout addition to ASICS's long-running GT-2000™ series. Built to last, the shoe is reinforced in targeted areas for steady support on lengthier trails. You also get top-notch shock absorption, strong grips, and a lightweight feel.
P.S. We love that these shoes are made with recycled materials.
Price: $$
Colors: carbon and tangerine or olive and neon
Size range: women's 7–15.5 and men's 6–14.5
This pretty pair has outsole lugs that provide extra traction and stability for more elevated trails. The slip-on construction fits like a glove without adding a tight or restricted feeling to your feet. They also have an ergonomic tongue and grips that are great in all types of weather.
Price: $
Colors: dark blaze and black or steel with tide pool
Size range: men's 6–20
You don't have to shell out a rent check for a reliable pair of trail running shoes. This pair from New Balance is a great bang for your buck. The foam inserts are hella comfy and the midsole cushions make for a supportive fit. They also have toe protection to guard you from rocks, roots, and other "ouch" factors.
Bonus: You can select your own width! The choices are wide, standard, and extra-wide.
Price: $$
Colors: blue, navy, or yellow
Size range: men's 7–15
Whether you like your trails rock hard or slick and soft, these trainers are a treat for your feet. They have you covered inside out. The durable mesh and grips will stave off slipping and tripping on uneven terrains. Reviewers say they're super durable and remain comfortable even on longer treks.
Price: $$
Colors: a blend of forest green and black
Size range: women's 6–12
These sneakers have a three-piece midsole and an external heel TPU heel for consistent support. They boast a megagrip outsole that offers killer grip and traction on all terrains. Rock stans are also in luck. The shoes have a rock plate for added protection on more technical terrains.
Bonus: Reviewers say these shoes are a great choice for folks who have wider feet.
Price: $
Colors: thunder blue, off noir, and black
Size range: men's 6–15
These lightweight babies were designed with off-roading in mind. They provide the traction you need for rocky trails and uneven terrains. The combo of durable rubber lug outsoles and comfy cushioned insoles are the perfect pair. They also boast an internal bootie and flywire cables to keep your little piggies safe and secure.
Cons: Reviewers say this pair isn't the best fit for peeps with flat feet.
You should def invest in a nice pair of trail running shoes if you like to run consistently in the great outdoors — particularly off of paved roads, tracks, or sidewalks.
Could you technically wear gym sneakers out on the trails? Sure. But trail running shoes are important for a reason. They're designed to keep your feet feeling comfortable and secure on a variety of terrains and in a variety of conditions. They tend to have added features like rock plate protection, extra-strong grips, and special laces.
So, similar to getting tires on your car that are appropriate for additional traction or driving long distances, off-trail running shoes serve a very specific purpose.
Here are some things to look out for when shopping for a pair of trail running shoes.
Terrain. Since you can't always control the terrains you might encounter, consider shoes that come with excellent grips and added protection from rocks, slick spots, and other potential hazards. Also, opt for a shoe that has great drainage if you run in wet or muddy areas on the reg.
Sizing. Ignore the "men" or "women" title on a shoe's name. Wear whatever shoes you want! Just make sure you keep size in mind when shopping. Generally, you just add 1.5 sizes to go from a men's size to a women's size. So generally, if you're a size 9 in women's, you could fall somewhere around a 7.5 in men's. But that's not always the case.
Longevity and durability. Pick a pair of shoes that can hold up for the long haul. A solid set of trail running shoes should last at LEAST 6 months. Of course, it also depends on how often you give them a run for their money.
Trail running is a magical mix of exercise, nature, and adventure. But it's def more intense than running on a treadmill. That's why you need to come prepared with the right type of footwear.
These 10 trail running shoe options should check most if not all of your boxes. Just be sure to do some extra research before choosing the pair that's perfect for you and your unique needs.