Princess Connect! Re: Dive Jumps into the Fray with New Challenges!
5 min read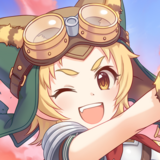 Heyas, Knights! We hope everyone's been having a blast with the Ironclad Nightmare special story event, getting to learn more about Nightmare and its guildmembers. The Nightmare focus continues with a new Focus Gacha banner, and we've got some other exciting new content to share (this time, with a lot fewer metal-based puns). Let's test your mettle and get to it!
That's the last of the puns, we swear.
Introducing Matsuri, a junior member of Nightmare! This apprentice knight is training daily to become the perfect hero. With a Union Burst diving her right into the thick of battle and AOE skills that complement her unique ability by dealing damage and stunning opponents, she's the perfect disruption unit for your team. Voiced by Asami Shimoda, this hero-in-training is ready to make the leap of faith into the fight!
Additionally, Makoto and Hiyori will also have boosted rates along with Matsuri. This is the perfect opportunity to improve the relationship between Nightmare and beastfolk, especially after the last debacle. Matsuri, Makoto, and Hiyori will also be available for redemption via character points.
The Matsuri Focus Gacha will last for 18 days, from 9/7 23:00 UTC to 9/24 22:59 UTC.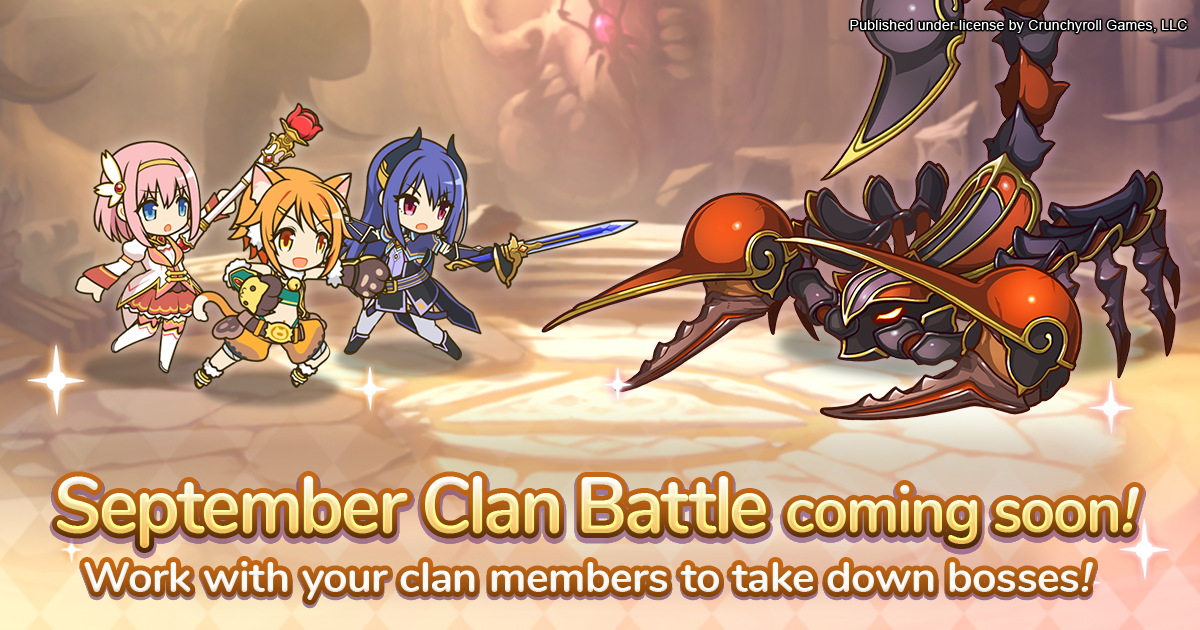 As we flip over the calendar to the month of September, you know what comes next! Prepare your teams (or enter the full auto zone) and work together with your clan members to conquer the September Clan Battle! In Clan Battle, you'll work with the aid of your fellow clan members to take on monsters too powerful for adventurers to handle alone. After the event is over, you'll earn precious Memory Shards, Clan Coins, and Jewels, depending on how well your clan did! The reward structure is the same as before, but you'll earn Chika Memory Shards this time around.
The September Clan Battle will run from 9/18 13:00 UTC to 9/23 7:59 UTC.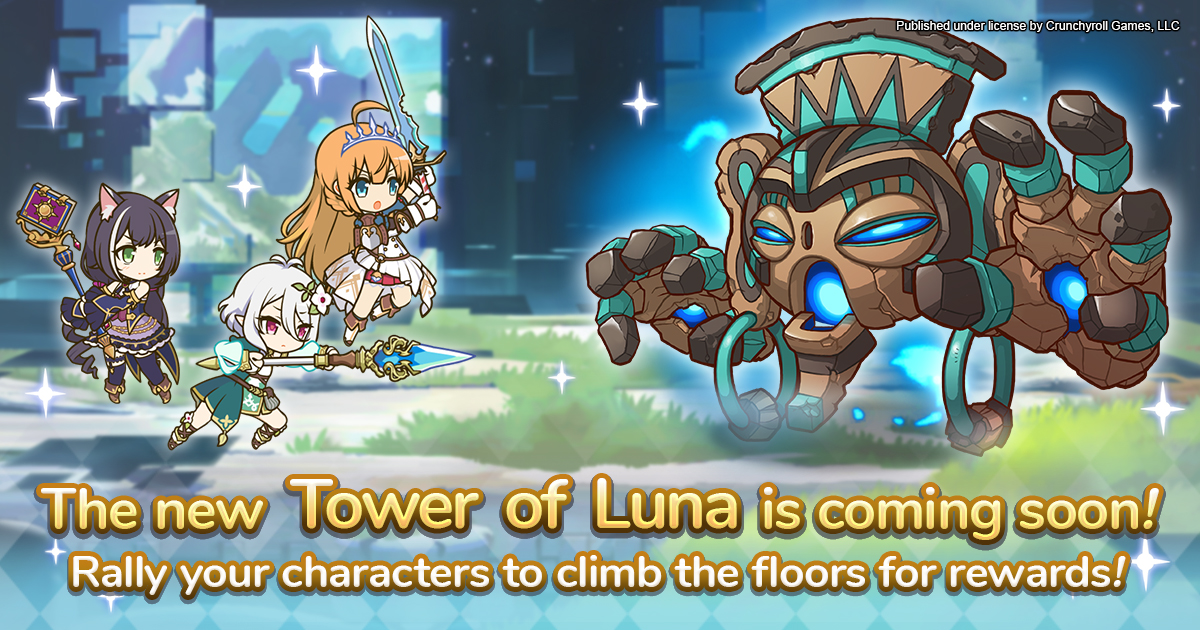 Get ready for another limited-time challenge, as the Tower of Luna opens its doors for challengers to climb! Imagine a supercharged Dungeon, with 70 floors of unique monsters, shadows, and bosses to best, with plentiful rewards for your troubles. Your party of characters can carry over between floors (assuming none of them hit zero HP), and you'll have a couple more cards up your sleeve to help you survive the ascent. How high can you climb?
The Tower of Luna opens its doors for five days, from 9/10 13:00 UTC to 9/15 15:59 UTC. You'll need to finish Main Story Quest 9-1 if you haven't already to access the tower. Godspeed, adventurers!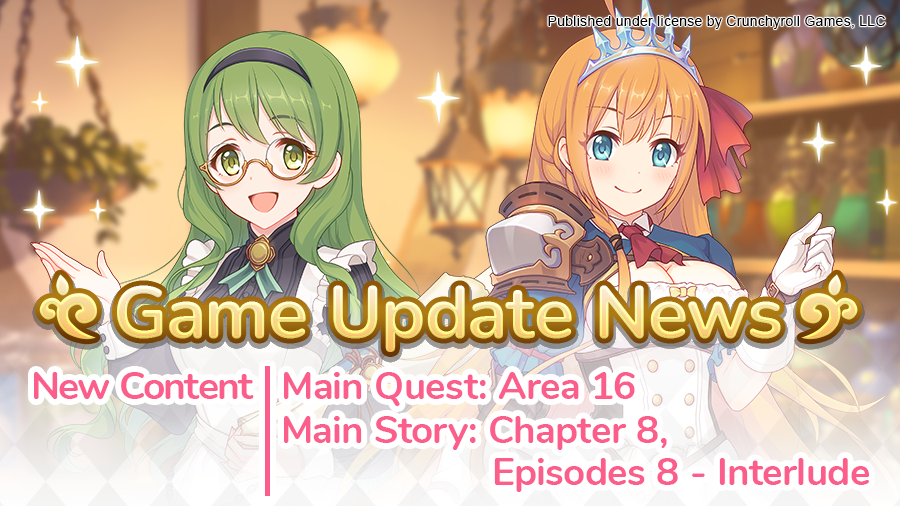 Coming soon in September, we will be unlocking Area 16 of the main quest! Make the chilling ascent up the Themis Snowpeaks while collecting new equipment, challenging new monsters, and unlocking more of the story. Be sure to gear up for the dizzying heights to protect yourself from the cold. The equipment gathered from Area 16 will allow you to rank up your characters to 3 slots at Rank 11, and you'll be able to conclude Chapter 8 of the main story. In Hard mode, you'll find Memory Shards for Aoi, Mifuyu, and Kyoka.
On top of the new stages and story content, we'll be increasing the level cap to 110. Now's the perfect time to make use of your resources!
The new area, increased level cap, and new story will be available after 9/7 at 13:00 UTC.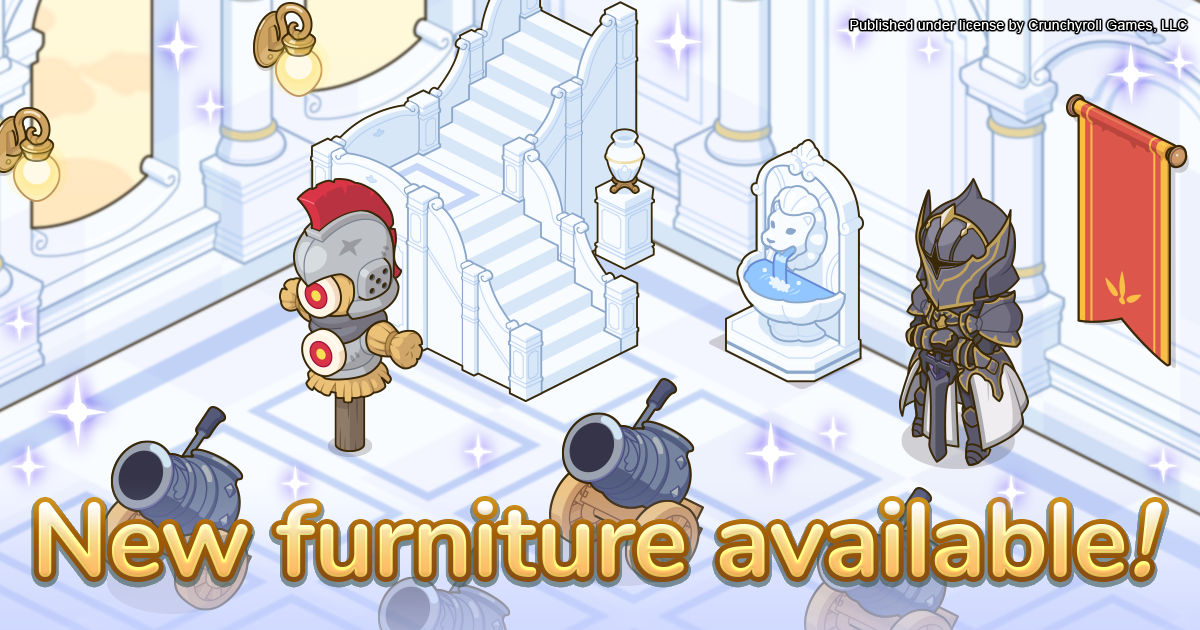 Don't just let Matsuri have all the fun. Bring the royal palace back to your own Guild House with the latest set of furniture. If you were a fan of blue, you'll be a huge fan of this collection of white and glamorous decor! 
This furniture set will be available starting from 9/7 13:00 UTC, so be sure to prepare your Guild House for this regal set. The full list of royal furniture is as follows:
Training Cannon

Training Dummy

Lion Fountain

Jun's Spare Armor

Matsuri's Spare Shield

Palace Upward Stairwell

Palace Downward Stairwell

Elegant Banner

Stylish Wall Lamp

Palace Wall

Palace Flooring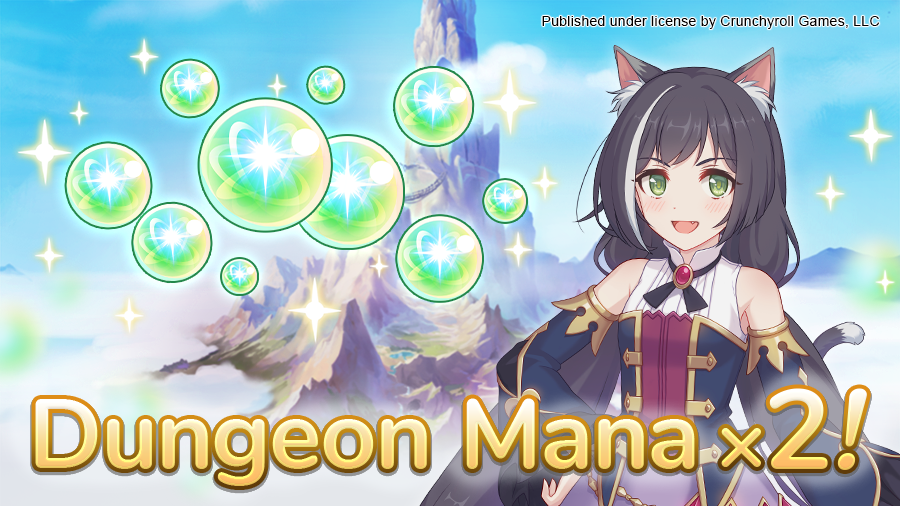 What do you call dungeon mana that is doubled?
Double Dungeon Mana.
Introducing Double Dungeon Mana!
The Dungeon Double Mana Drop Campaign lasts for seven days, from 9/4 13:00 UTC to 9/10 12:59 UTC.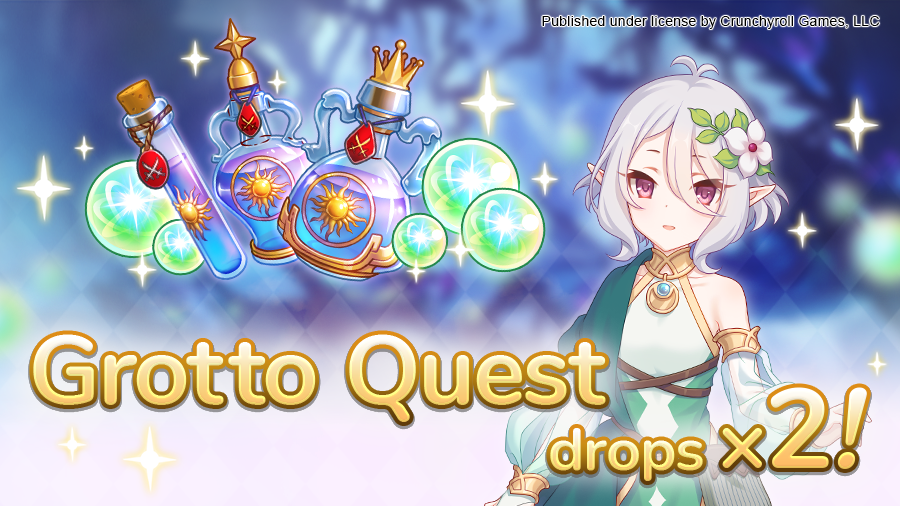 Ok, so maybe calling these the "grotto-itous coffers" last time was a bit of a stretch. Either way, enjoy double the mana and double the experience potions from the limitless resources of the Grotto during the Grotto Quest Double Drop Campaign, running for seven days after the Dungeon Double Drop Campaign's closure, from 9/10 13:00 UTC to 9/16 12:59 UTC. 
Finally, the Double Drop baton gets passed along to Normal Quests, where you'll be able to collect double the equipment, double the mana, and double the fun1 from Normal Quests! This is far and away one of the best opportunities to grab resources from the new world that was just released, outfitting your characters to their latest and greatest gear, and maybe even racking up the stamina to do your clan battle hits. The Normal Quest Double Drop Campaign runs for six days, from 9/16 13:00 UTC to 9/21 12:59 UTC.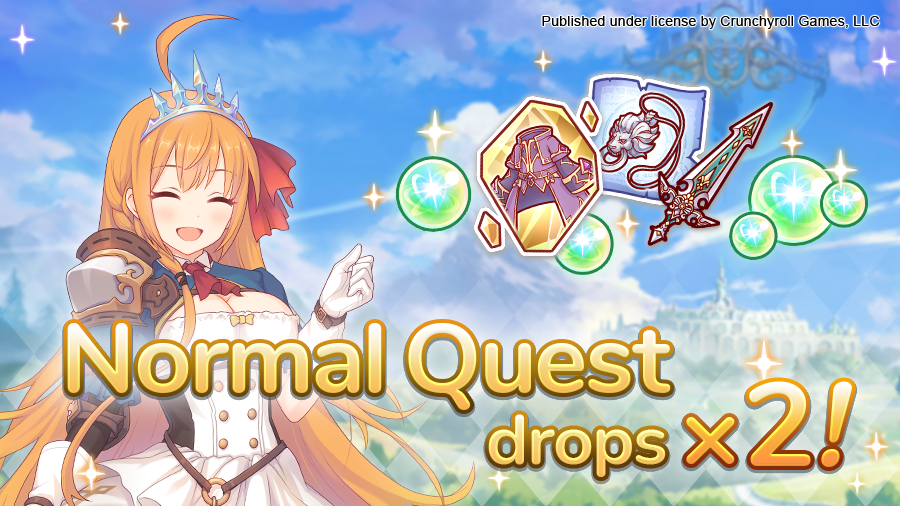 We also wanted to give you all a heads up that the Princess Connect! Re: Dive team has identified an issue where an extra EXP potion is consumed when a user levels up their character(s) to the Player level through either the "Optimize" or "Equip All" Function. The issue occurs when the user is able to level up their character(s) by over-filling the EXP bar.
We're currently working on a fix that will be released shortly and will try to update you all when we can! Thanks for your patience, Knights!
Included below is a summarized version of all the updates announced today, for easy reading and accessibility. Thank you for all your support, and we hope you continue to enjoy Princess Connect! Re: Dive! 
See you in Astraea, Knights!
— Crunchyroll Games
*Note: All event details may be subject to change. Please check the in-game notifications at the start of the events for the full details.
Matsuri Focus Gacha (9/7 23:00 UTC to 9/24 22:59 UTC)

Boosted rate-up for Matsuri, Makoto, and Hiyori.

Matsuri, Makoto, and Hiyori are available for redemption.

September Clan Battle (9/18 13:00 UTC to 9/23 07:59 UTC)

Tower of Luna (9/10 13:00 UTC to 9/15 15:59 UTC)

Unlocked after completion of Main Story Quest 9-1.

Complete each floor for rewards.

Reset your teams back to full health daily.

Progress made during this month will carry over towards future Tower of Luna events.

September Content Update (9/7 13:00 UTC)

Main Quest Area 16 unlocked.

Level cap increased from 107 to 110.

Character equipment cap increased from 10-5 to 11-3.

Chapter 8 of the main story is fully unlocked.

Dungeon Double Drop Campaign (9/4 13:00 UTC to 9/10 12:59 UTC)

Grotto Quest Double Drop Campaign (9/10 13:00 UTC to 9/16 12:59 UTC)

Normal Quest Double Drop Campaign (9/16 13:00 UTC to 9/21 12:59 UTC)
1 Double the fun not actually guaranteed. That's your prerogative!