The 20 Best Pieces of Affordable Furniture from Amazon in 2021
5 min read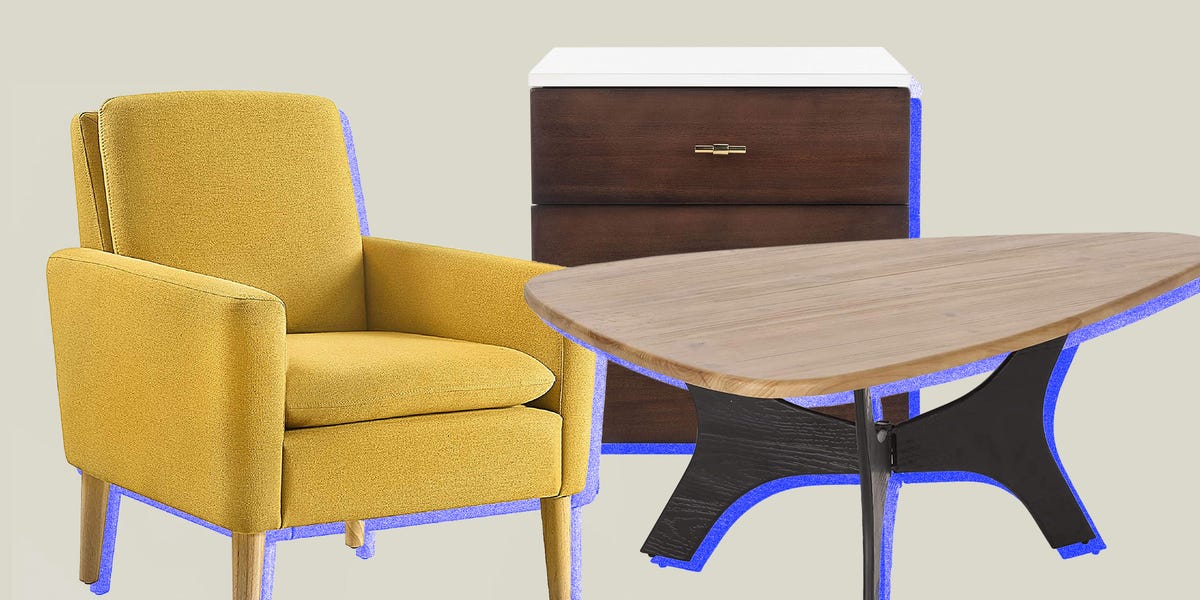 You can buy a lot from Amazon: toothbrushes, gadgets, random knickknacks you'll use once. The most underrated section in Amazon, however, might be the furniture. That's right: you can buy furniture from Amazon, and some of it is even eligible for Prime's two-day shipping. Better yet, a lot of it is crazy cheap. While nothing will be heirloom-quality, you can be sure that there's something to fit most interior design sensibilities. Head right now to find a desk, a bed or a dresser and you'll be inundated with more options than you'd care to sort through. Don't worry; we did it for you. From industrial-chic desks to mid-century modern sofas, these are the 20 best pieces of cheap furniture you can buy from Amazon.
1
TV Cabinet
This TV cabinet isn't from Ikea, but it is just as easy to assemble. With its barn yard-chic appeal and helpful storage, this TV cabinet is a no-brainer buy.
2
Cornelia Coffee Table
Christopher Knight Home
It's no Noguchi, but it's a well-designed coffee table that will, of course, hold your coffee and anything else you throw its way. Some assembly is required, but it's nothing you haven't done before if you own almost anything from Ikea.
3
Genevieve Nightstand
Safavieh
Two drawers — one small, one big — and a classic design. Let your nightstand be the statement piece in your bedroom.
4
Accent Chair
Available in mustard, grey, blue and purple, this accent chair is the type of seating you slink into after a long day and read a book. Or drink a beer. Or smoke a cigar. It doesn't matter — it's your chair.
5
6-Tier Bookcase
"Bookshelf" is a bit of a misnomer these days. Sure, they carry books, but they're also just really good at displaying stuff. This 41-inch bookshelf can support up to 44 pounds on each of its six shelves. The shelves alternate between mesh backing and X-shaped backing, bringing an industrial-style look to your home.
6
Lucca Retro Black Dining Chair, Set of 2
For $162 you get two, count 'em two, dining chairs that fit with practically any design style. Reviewers say they can set up in about 15 minutes, and one said, "No regrets!"   
7
Theo 2-Shelf Industrial Wall Mount Ladder Table
Small homes require small desks. This wall-mounted ladder table takes up space vertically so you can save your precious square footage for more important things.  
8
Accent Chair and Ottoman Set
If an Eames lounge chair isn't in the budget right now (and you're not willing to buy a straight-up knock-off), this chair and ottoman set can do the trick — sans reclining. 
9
Rattan Arm Chair
Guyou
This easy, breezy arm chair combines the best part of an outdoor resort chair and an indoor arm chair for something that's bound to get you lots of compliments. 
10
Computer Desk with Hutch and Bookshelf
If you don't have space for a bookshelf and a desk, get a two-in-one. For a Frankenstein's monster of a desk, this doesn't look half bad either. 
11
Farmhouse Coffee Table
This coffee table is an open book. Its hollowed-out frame exposes everything you store, so it's the perfect coffee table for those looking to put their wares on display. Overall it has a nice farmhouse aesthetic if you're into that kind of thing.
12
Suzanne Metal and Wood Platform Bed Frame
Bed frames usually don't come this cheap, and they also don't usually look this good when they do. The mix of wood and steel is a timeless pairing, and non-slip tape on the platform helps to prevent squeaking.  
13
Bertha Mid-Century Velvet-Upholstered Swivel Office Chair
It's not going to give you optimal lumbar support and top-of-the-line ergonomic features, but this office chair does bring the style, and it's hard to deny that.
14
Buffet Sideboard
This buffet sideboard is for your wine, cocktail-making accessories and other booze gear. Or, you know, you could just use it for other non-alcoholic related stuff.
15
Ophelia Lounge Chair
The Ophelia chair, inspired by Italian mid-century design, pairs a deep blue seat with complementing brass legs for a luxurious chair that you'd expect to have a much higher price tag.
16
Brayson Modern Walnut Dining Table
This simple dining table will be where you want to take all your meals (and work calls if you still don't have a desk). And if you're worried about hauling this 50-pound table into your home, one reviewer, who describes themself as 5-foot, 3-inches and 125 pounds, said they set it up with no issue.
17
Harvey Park Dresser
One doesn't need much when it comes to a dresser. It just has to look nice and give you as much space as you need to put your clothes. The Harvey Park Dresser by Sauder ticks off all the right boxes.
18
Sideboard Cabinet
Hide all of your stuff inside this stylish sideboard cabinet. The angled doors add a bit of fun to an otherwise un-fun piece of furniture. And if you have some stuff you want to show off, those exposed shelves will do the trick.
19
Benton Sofa Couch
Sofas eat up a huge chunk of home furnishing budgets. This mid-century modern option from Zinus does not, and it looks shockingly similar to a much-adored direct-to-consumer furniture brand's sofa, which goes for three or four times this price. Almost 1,000 people have copped this sofa, probably owing to its timeless design, ease of assembly and, of course, its low price.
20
Frederick Mid-Century Leather Sofa
This isn't cheap, per se, but for a leather sofa it is. The Frederick leather sofa from Amazon's in-house brand Rivet is made of genuine leather, featuring a bench-style seat and channel-tufted. Like velvet? It comes in velvet, too.
This content is created and maintained by a third party, and imported onto this page to help users provide their email addresses. You may be able to find more information about this and similar content at piano.io