The Best Chelsea Boots You Can Buy
4 min read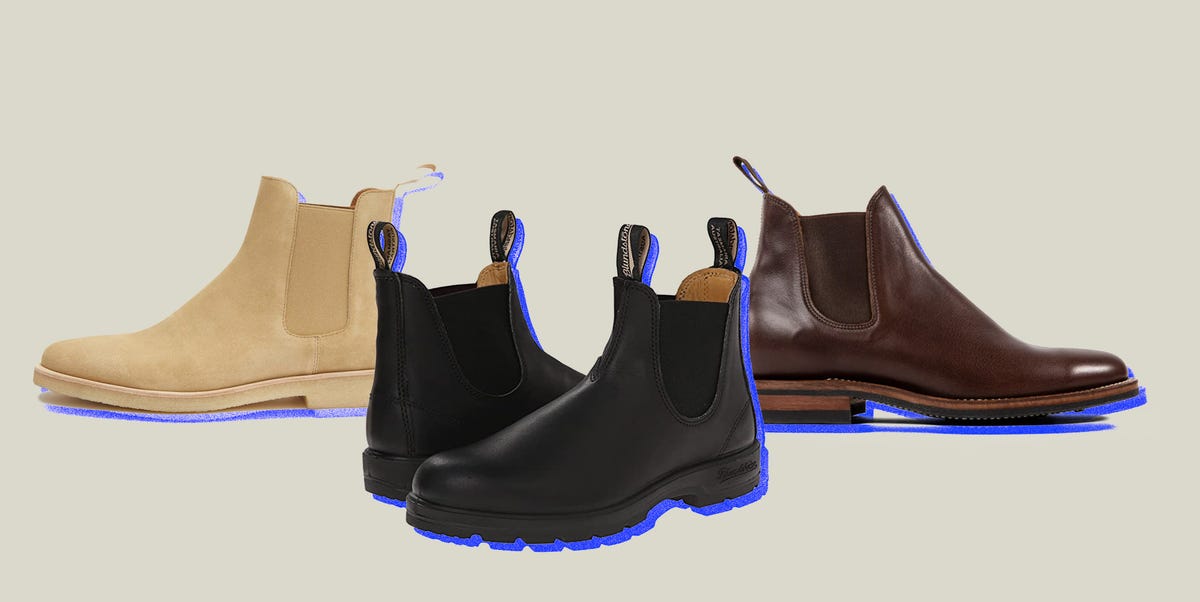 Chelsea boots originate in England in the mid-19th century. They've only strayed from home just recently. The elasticized wonders were a staple in mid-'60s London scenes and protected the feet of seemingly every British invader — from John to Ringo. Recently, they've seen a revival on many of menswear's best-dressed.
Marked by a slim silhouette, elastic side panels, and heel pull-tabs, the boot has seen reinterpretations in leather, suede, and neoprene, either with crepe, leather or rubber soles. They're a versatile option that's gone largely unchanged since inception, save for material swaps here and there. And while they aren't as in-demand as they were in the mid-2010s — when everyone from Kanye West and David Beckham to Harry Styles and Justin Theroux were wearing theirs — Chelsea boots prove sensible now more than ever. The style emphasizes both aesthetics and comfortability, meeting in a middle ground where both camps — those wearing them for their look and those wearing them for their convenience — are appeased.
Further, designers from all over have riffed on the shape over and over and over again, resulting in a rich landscape of iterations to choose from. Whether you're looking for a pair that's polished or preppy, with a bit of street cred or suit-friendly, here 13 different Chelsea boots to choose from.
Advertisement – Continue Reading Below
Best Overall Chelsea Boots
BL558 Boots
Technically part of the Australian bush boot lineage of boots, Blundstone's 558 boot is one of the best values you can get. It's a top choice for people in every industry thanks to the tough leather upper, shock-absorption and classic design.
Best Upgrade Chelsea Boots
Craftsman Boot
R.M. Williams' Craftsman Boot is its best-selling boot, braving the Australian outback on the feet of its hardest-working cowboys. The single, one-piece leather upper is supple yet durable and the Goodyear-welted construction extends the life of the boot several factors over. If it's tough enough for Aussie cowboys, it's tough enough for you.
Best Affordable Chelsea Boots
Cooper Boot
Rhodes' Cooper Boot is a classic take on the Chelsea style. It's cut from tumbled leather, situated atop a Vibram mini-lug outsole, and finished with a stacked leather heel. Plus, it's fully-lined with leather and made in Leon, Mexico, the Mecca of shoemaking in Mexico. 
The Drake Boot
Constructed from a waxed roughout suede upper and a durable Ridgeway-style sole, The Drake Boot works well in all types of weather. It's fully lined with leather and finished with a Goodyear Welt construction, all by artisans in Taft's Spanish factory.
Sonoma Suede Chelsea Boot
Skeptical about the Chelsea boot category? New Republic's Sonoma Suede Chelsea Boot lowers the point of entry, both through price and palatability. They're cut from soft suede, lined with leather, and finished with tonal elastic gussets and pull tabs. Plus, a padded insole — on top of the crepe outsole — ensures comfort. 
The Ranch Boot
4-oz Espresso-colored leather forms the upper on Taylor Stitch's The Ranch Boot, a heavy duty slip-on, Chelsea-style boot. The resoleable Goodyear welt construction ensures longevity, interior detailing shortens the break-in period (to nearly null), and the two durable elastic gussets are guaranteed to retain their shape through repetitive wear.
Chelsea Boot
Viberg's Chelsea Boot measures six inches up the leg. The upper's constructed from a single piece of leather and elastic gussets, and the sole and lining are Dainite and Kip, respectively. An antique midsole tops it all off. 
Desert Chelsea
Clarks doesn't just craft comfortable lace-up Desert Boots. The nearly 200-year-old company also makes slip-on Chelseas. They're inspired by the Desert boot — hence the name, Desert Chelsea 2 — and made in Portugal from suede uppers and crepe soles.
Chelsea Toro Special Edition
Both Fair Trade and Gold-rated, markers of both quality and environmental consciousness, Unmarked's Special Edition Chelsea Toro boots are made from 2.2 mm leather uppers, calf leather liners and a vegetable-tanned footbed with cork cushioning. Plus, the outsole, which was entirely hand-shaped, can be replaced when it wears down.  
Chelsea Boot
Oliver Cabell makes a bunch of minimal, easy-to-wear sneakers. A few years ago, they expanded to boots, beginning with their suede and crepe-soled Chelsea Boot. Available in five colors, every pair is hand-crafted and -lasted in Albacete, Spain.
5504 Chelsea Boot
Constructed from Horween Chromoexcel, a leather made using proprietary techniques, Oak Street Bootmakers' made-in-USA 5504 Chelsea Boots are better once broken in. Go a half size down to allow them to stretch to your foot, and ready yourself for some of the finest patina you can find. 
Full-Grain Leather Chelsea Boots
Made in Italy by footwear brand Common Projects, this Chelsea boot features dark-brown, full-grain calf leather and durable rubber-lug soles. Kanye's been known this style (although in suede), but it's certainly not limited to hip-hop royalty.
Balbi Suede Ankle Boots
As the category has grown, interesting streetwear-inspired riffs have popped up, oftentimes to traditionalist's dismay. These reference a mix of influences, combining a thick rubber out- and midsole, with an elevated suede and elastic upper. To note: these are the only navy blue pair on this list.
This content is created and maintained by a third party, and imported onto this page to help users provide their email addresses. You may be able to find more information about this and similar content at piano.io
Advertisement – Continue Reading Below